---
---
HOME / SITE MAP / BACK TO SCIENCE 
---
---
|| SCIENCE ||
FOR AGES 8 AND 9
INFORMATION - DIGESTION
Dear friends:
Do you know what happens to the food when you eat it?
Do you know what digestion means?
Digestion is the process of breaking down food in the stomach and intestines so that it can be absorbed into the blood to be used by the body.
Digestion begins when you put a piece of food into your mouth and chew it.
In our food there are carbohydrates and sugars. They start digesting right from the mouth. Our saliva is a kind of digestive juice, which digest carbohydrates and sugars.
When you swallow, the bolus of the food enters a muscular tube, known as esophagus. The esophagus takes the food to the stomach.
In the stomach, food is broken down by acids and enzymes that are released by the stomach lining. The food remains in the stomach for about 3-4 hours, until it is all mixed up and become liquid. Our food also contain proteins which are partly digested here.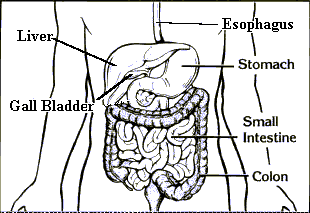 From stomach food goes to the intestine. Intestine consists of the small intestine and the large intestine. The first small c-shaped part of the intestine is known as duodenum. Here digestive enzymes from the liver and pancreas break down the food further. Fat, protein, and carbohydrates are digested here into their basic units.
Muscle contractions, known as peristalsis, carry the liquid food through the rest of the small intestine known as jejunum and ileum. Here the rest of the digestive process is being completed. The digested food is absorbed into the blood vessels in the small intestinal lining.
The left over undigested food along with the fibers passes into the large intestine, or colon, which loops around the small intestine. The lining of the colon absorbs water. Waste products are expelled through the rectum.
Dear friends:
You can find information about nutrients and healthy foods in our 'Healthy habits' section.
---
---